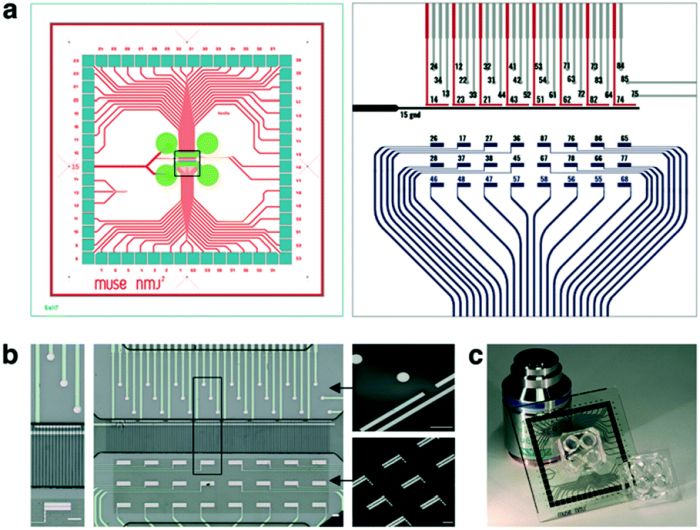 06 Oct

Microstructured microfluidic chip along with embedded microelectored for stimulating and screening human neuromuscular junctions (hNMJ)

Neuromuscular junctions (NMJs) are the synaptic junctions between motor neurons (MNs) and muscle fibres and are of crucial importance in delivering signals associated with motor activities. Therefore, defects in the motor neurons or disruption in the activity of NMJs can lead to neurodegenerative diseases such as amyotrophic lateral sclerosis (ALS). Precise models of human neuromuscular junctions (hNMJ) can help us better understand the risk factors causing neurodegenerative diseases and discover novel treatments. In this week's research highlight, we will introduce a recent paper published in the lab on a chip journal that aimed at developing a microfluidic device with embedded microelectrode arrays for in vitro modelling of human neuromuscular junctions. 

"Our goal was to create hNMJs on a specific pattern of electrodes to stimulate pre-synaptic axons and record post-synaptic muscle activity. Micromachining was used to create structurations to guide muscle growth above electrodes, without impairing axon propagation, therefore optimizing the effectiveness of activity recording. Electrodes were also arranged to be aligned with the microfluidic chambers in order to specifically stimulate axons that were growing between the two compartments. Isolation of the two cell types allows for the selective treatment of neurons or muscle fibers to assess NMJ functionality hallmarks.", the authors explained.
The working mechanism of the microfluidic device 
Here, the goal was to create a microfluidic chip in which mature human neuromuscular junctions could be formed and screened by co-culturing motor neurons and muscle cells. Microfluidics helped the researcher team to spatially organize and compartmentalize the cells while the microelectrode array underneath the microchannels enabled the team to directly stimulate distinct axons and record the induced muscle activity. The microfluidic platform consisted of two microfluidic chambers for culturing motor neurons and muscle cells. The cell culture microchambers each were 4mm long, 1 mm wide, and 100 μm thick. These microchambers were connected with 500 μm long perpendicular microchannels with a crosssection of 5 μm by 5 μm. This perpendicular microchannel (synaptic compartment) enabled the axons to penetrate and form the human neuromuscular junction. PDMS was then cast over the molds to microfabricated the microfluidic chips using conventional soft lithography. A multi-step lithography process was conducted to create the microarrays on 49 × 49 mm, 500 μm-thick borofloat glass substrates which were then aligned and permanently bonded to the microfluidic chip. The microelectrodes were designed to fulfill different tasks. A set of microelectrodes were placed under the motor neuron chamber while another set under the entrance of microchannels was employed to stimulate the axons. The third set of microelectrodes consisting of 24 rectangular electrodes were used to record myofiber activity.  
In order to enhance the maturation of the muscle cells, a microstructured substrate was used by microfabrication continuous grooves on the coverslip. The PDMS microfluidic chip was then aligned and placed on the groves to guide the growth of the cells with mechanical cues. Various groove sizes from 10 μm to 30 μm were tested and were shown to successfully orient the muscle cells while the cells on the control substrate (without the microstructured patterns) were randomly distributed. Continous grooves were then changed to broken lines since continuous grooves appeared to impair hNMJ formation. 
The proposed microfluidic setup was shown to be capable of the formation of mature hNMJs using motor neurons differentiated from stem cells and biopsy-derived myoblasts. The design of the microelectrodes enabled the team to both stimulate and monitor the activity of the cells.
Read the original article: Human neuromuscular junction on microstructured microfluidic devices implemented with a custom micro electrode array (MEA)
Pouriya is a microfluidic production engineer at uFluidix. He received his B.Sc. and M.A.Sc. both in Mechanical Engineering from Isfahan University of Technology and York University, respectively. During his master's studies, he had the chance to learn the foundations of microfluidic technology at ACUTE Lab where he focused on designing microfluidic platforms for cell washing and isolation. Upon graduation, he joined uFluidix to even further enjoy designing, manufacturing, and experimenting with microfluidic chips. In his free time, you might find him reading a psychology/philosophy/fantasy book while refilling his coffee every half an hour. Is there a must-read book in your mind, do not hesitate to hit him up with your to-read list.