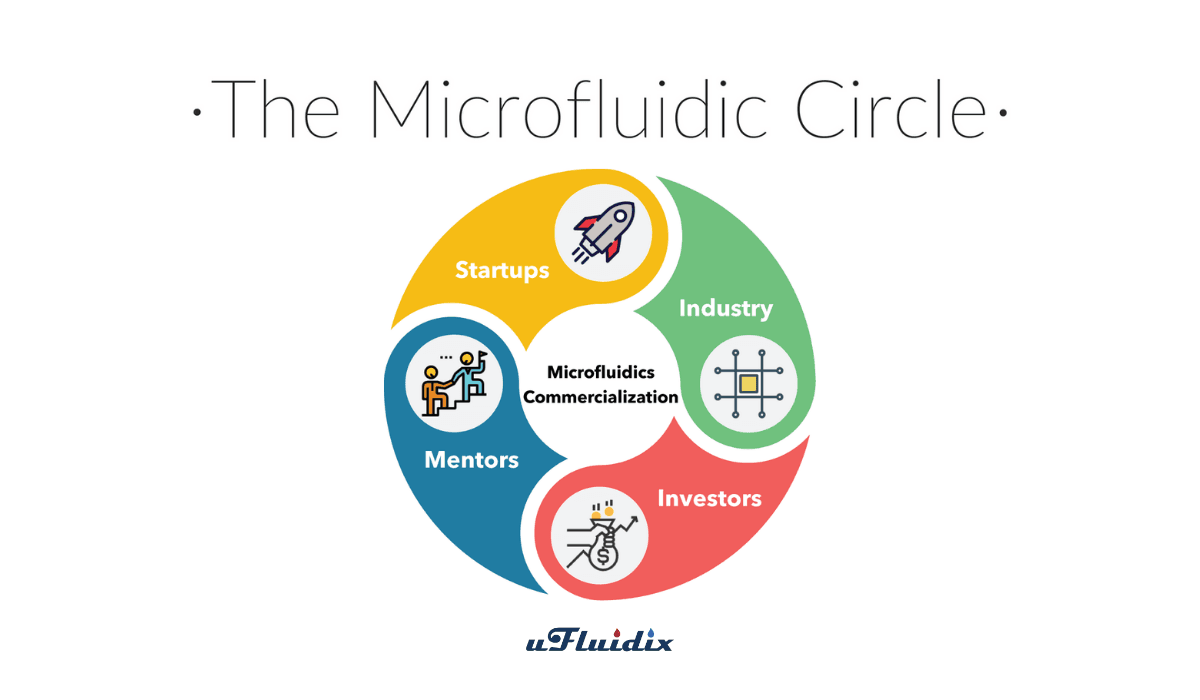 10 Jan

The Winner Of The Microfluidic Circle Competition 2018 Takes Their Product To The Next Level

Winning last year's Microfluidic Circle competition brings uFraction8, a young biotech startup from Scotland, one step closer to the commercialization of their sustainable bioprocessing technology.

TORONTO (PRWEB) JANUARY 10, 2019 — uFraction8 develops microfluidic-based filtration systems to help biomanufacturers to dewater and concentrate biomass while attaining scalability and energy efficiency that outcompetes conventional filters and centrifuges. They participated in this international contest to compete with several high-caliber microfluidics startups. Dr. Brian Miller, Managing Director of uFraction8 notes,
"It was perfect timing for us [to apply for The Prototyping Grant] as we had just been approached by a company to explore if we could target a problem area for them, anaerobic digestate. We used the grant to prepare a suite of microfluidic devices at various scalings to see which sizes would be most effective at targeting the particle populations in the digestate."
The Prototyping Grant not only provided uFraction8 executives with great data that helps take on larger projects, but also allowed them to narrow their focus to hone in on new market
opportunities.
The Prototyping Grant is sponsored by uFluidix, the leading manufacturer of microfluidics devices. uFluidix's technical staff are completely aware of the challenges involved in microfluidics device development. Of the list of challenges, the most difficult task is keeping the quality and reliability of the microfluidics devices uncompromised despite shortcomings in the manufacturing process.
"Producing microfluidics devices in short lead times while ensuring quality is a costly business that most startups cannot afford,"
says uFluidix CEO, Dr. Aarash Sofla. Through this program, the grant winners can have their hands on high-quality devices to evaluate their proof of concepts. Dr. Brian Miller from uFraction8 says,
"The chips from uFluidix were of very high quality. We had to do some modifications to fit within the footprint available, and they were very helpful and responsive with this. The team at uFluidix also worked really hard to get us our order in time to use facilities we had booked for a specific window."
Two previous successful rounds of The Prototyping Grant proved that there is a need to continue identifying and supporting microfluidics startups and individual inventors who are commercializing groundbreaking microfluidic products but have limited access to funding or production facilities. Therefore, The Microfluidic Circle Prototyping Grant competition will be open for the 3rd round in late-January 2019. The executives of uFraction8 encourage other companies to apply:
"We would highly recommend other startups to apply. The ability to iterate on your designs and validate performance in the lab with professionally manufactured chips has given us a real boost in our product development. After successful completion of the initial project, we still have some chips that we are using to help us refine our design tools."
About uFraction8 
uFraction8 provides scalable bioprocessing technology enabling biomass filtration, separation and dewatering, used with wide ranges of microbes like micro algae, yeast and bacteria, sorting biomass from culture medium with no harm and no flocculants, unlike centrifuges, filters and membranes. For more information, please visit http://www.ufraction8.com/.
About The Microfluidic Circle 
The Microfluidic Circle is a professional community of individuals and companies created by uFluidix to bring together those who share one goal: help commercialize and grow the field of microfluidics. In this regard, the Circle interconnects business experts, engineers, scientists, investors, startups and the industry to promote collaboration toward introducing more successful microfluidic products. To initiate and foster dialogue between all the players involved, a special opinion platform was created – Circle's Blog. For more information, please visit https://ufluidix.com/circle.
About uFluidix 
uFluidix is a contract manufacturer which designs, develops, and fabricates custom microfluidic chips that are mainly used by medical devices, diagnostics, and therapeutics companies for a variety of microtechnology applications. For more information, please visit https://ufluidix.com/.
Media Contact:
Kateryna Protsyk, Program Manager
The Microfluidic Circle
Email: [email protected]
For information on our latest news and our trending posts:
twitter.com/ufluidix or @uFluidix
For the official press release, please click here.