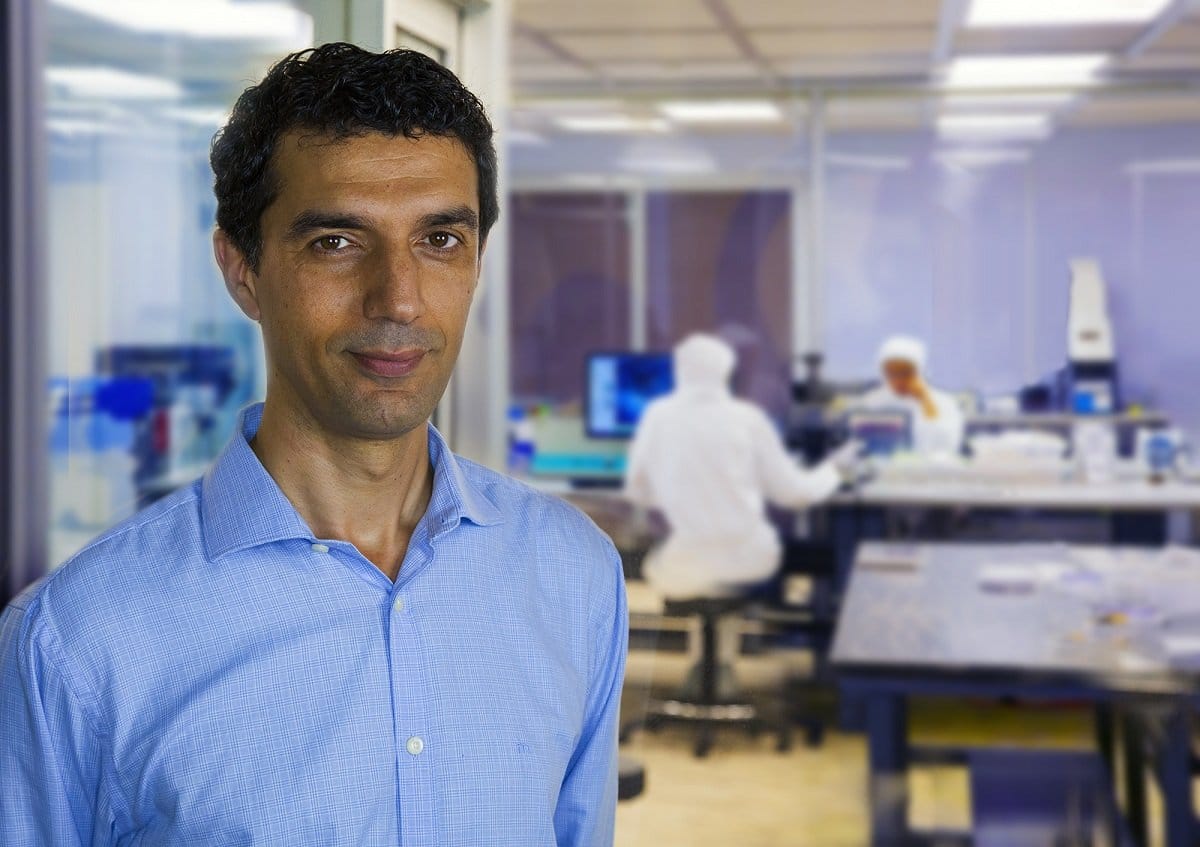 01 Nov

uFluidix Masters "Lab on a Chip"

uFluidix Masters "Lab on a Chip" — StartUp HERE Toronto (November 1, 2018).

Along a series of tiny channels, one-tenth the width of a human hair, pass liquids that are perhaps one-hundredth the volume of a single drop. With these special chips, we can now do everything from breakthrough molecular and cell biology research, to point-of-care diagnostics. It's all thanks to the science of microfluidics, and Toronto firm uFluidix is at the forefront.

People with diabetes need to track their sugar levels throughout the day. With a hand-held blood glucose monitor, that can happen quickly and easily. Ever wonder how?

Newer technology is revolutionizing the process of testing fluids. Aarash Sofla calls it "lab on a chip" – and his Toronto firm has become a leader in the field of microfluidics.

Imagine an aerial view of a large highway system, with lanes, exits and overpasses in all directions. Traffic passes in an organized manner. Now shrink that system until it can fit on a tiny chip or cartridge, made of thermoplastic. Instead of cars and trucks, there are droplets. Instead of roadways, there are grooves so small that each is one-tenth the width of a human hair.

That's the arena of microfluidics. Different fluids (sometimes one-hundredth the volume of a single drop) travel along a sophisticated network of micro-channels. With the technology, and accompanying devices, scientists and researchers can analyze everything from cancer cells to toxins in water. Microfluidics is described as a cross between engineering, physics, biochemistry, biotechnology and nanotechnology.

Sofla's firm, uFluidix (ufluidix.com) uses proprietary manufacturing to enable affordable production of advanced microfluidics platforms, each tailored for specific applications.

Those applications are highly varied – molecular and cell biology research, genetics, point-of-care diagnostics and biomarker detection, tissue engineering, drug delivery, drug efficacy monitoring, fertility testing and assistance, the synthesis of chemicals or proteins, portable forensics, and more.

Sofla didn't start out to be an entrepreneur. He earned Bachelor and Master degrees in engineering, then a PhD in material sciences. At first, he wanted to be a professor. While working in a lab, he was involved in DNA forensics using microfluidics technology. Sofla saw the potential, and in 2010 launched uFluidix.

With the help of VentureStart, through the Federal Economic Development Agency, Sofla received seed funding and mentoring from Toronto-based MaRS. uFluidix has delivered customized chips for clients like Johnson & Johnson, Roche, Kimberly-Clark, P&G, Novartis, Eli Lilly, Intel and Tesla (among better known names) as well as many others whose names are known mainly in the cutting-edge scientific community.

The company offers services in four areas. In the clean room at their Scarborough headquarters, uFluidix can fabricate any number of microfluidic chips – dozens for experimentation, hundreds for trials or validation, or thousands for product launches.

With the use of microfluidics systems growing, in applications such as wearables and personalized medicine, there's also a need for evaluations of conceptual designs. From start-ups to the established medical device and pharmaceutical industries, companies want to be able to quickly assess their design and move on to the next iteration. So uFluidix also engages in prototyping, with quick turnarounds for multiple iterations.

A third service is bonding. The sealing strength between layers in chips can be critical to a device's performance. uFluidix selects appropriate scalable processes for bonding, which fit a device's important surface requirements (e.g. contact angle, chemical/solvent or biological contaminants, inhibitory agents, etc.).

Lastly, uFluidix is involved in R&D, helping clients to conceptualize, improve and validate microfluidic devices.

Through his company, Sofla also champions The Microfluidic Circle. That's a community of industry members, business experts, engineers, scientists, investors and start-ups. The goal is to promote collaboration towards introducing more successful microfluidics products.

"We're in a position where we need to support the community and this technology," says Sofla.

New applications and breakthroughs promise to come at a rapid pace – yet still just at a drop at a time.

Written by Stuart Foxman

Photo credit Zlatko Cetinic, Images Made Real

This article has been republished from the following publication.